Selecting a Web Service Method
Before you can call a Web Service you must first bind to it. This can be accomplished using the "Tools->Web Service Test Client" Menu.
Select a WSDL or WADL File
First you must select the web service type you want to look at (WSDL, WADL or User Defined Web Service - see below) using the radio buttons at the top of the page.
You then need to specify the URL that returns the WSDL or WADL for the web service.
For .Net web services, this of the form http://ServerName/Service.asmx?WSDL
You can also select a local file e.g C:\temp\Service.wsdl
You can test the web service your have specified is valid using the "Test" button.
For those just curious about the tool, we have supplied a simple web service which allows you to explore the functionality of the Web Service Test Client. To use this web service, click the "Use Liquid Technologies Sample Web Service" link button.
If the service requires authentication, then you can add a user name and password.
If you save the web service call then the password is not encrypted in the file.
The Wizard will not allow you to move on until the web service URL is pointing at a valid WSDL file.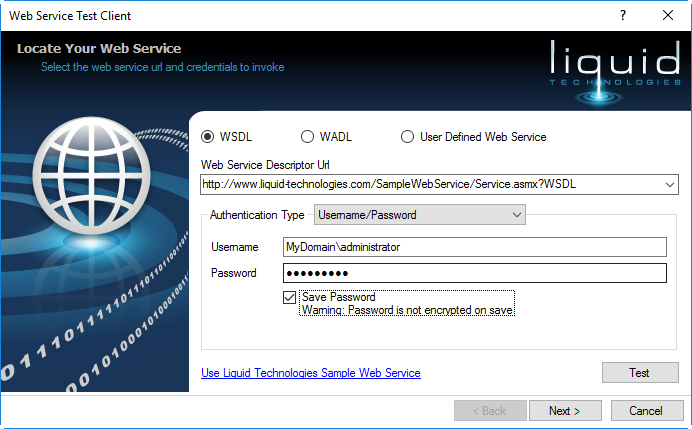 Selecting a Web Method
You can now select the Web method you wish to call. Web services typically offer the ability call there methods using a number of protocols. The browser shows all the supported protocols and all the methods exposed for each of them (Note Not all methods can be called via HTTP POST & GET).
The Web Service Test Client supports 4 protocols, Soap 1.1, Soap 1.2, HTTP GET & HTTP POST. Any other protocols are ignored.
Once you select your method, and press Finish, and request is constructed for you.
You can then modify the request and call the web method. See Web Service Test Client.
Select option to create a User Defined Web Service
If your Web Service does not have a WSDL or WADL file, you can choose the option to create a User Defined Web Service on the first page of the Wizard.
When you click 'Next >' you are then presented with the following screen which allows you to specify a service, URI, method (GET or POST) and method parameters.
Clicking 'Finish' then allows you to save the User Defined Web Service as a WADL file.
The next time you want to access the service, you can then select the WADL file you just created.