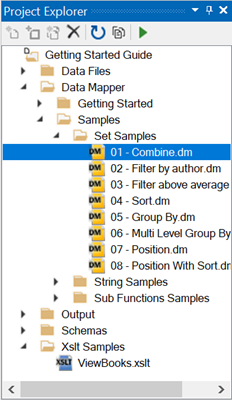 This panel shows the contents of the current project. The project contains groups of files which can be opened by double-clicking or from the right-click context menu. When an item in the project tree is selected, its related properties can be seen in the Properties Window.
Projects are useful when you have a large number of related schema and documents. The default groups are Documents, Schemas and Transforms, but any number of groups can be added and the defaults can be removed using the right-click context menu.
The groups represent the physical paths under the project folder on disk. Files can be added by drag and drop from Windows Explorer or from a folder's right-click context menu. Any files added from other locations are automatically copied to the project folders on disk.
Running Selected Files
You can run a batch of selected files, e.g. Data Mapper (.dm) or XSLT (.xslt) files, using the 'Run Selected Files' button from the toolbar or a file's right click menu.
The output can be seen in the Output Window.